About
Brickworks Loves Tottenham
Words by
Sarah East
When my partner and I were thinking about moving to Tottenham back in 2011, a friend directed us to Downhills Park.

We spent a Saturday morning sitting under the trees outside the park cafe, watching the friendly community of dog walkers, families and friends, and knew it was something we wanted to be part of. Twelve years, two cats and a kid later, we've made a life here – and we still love the area's beautiful green spaces and rich sense of community.

Downhills feels like the centre of our world, but Lordship Rec, its neighbour to the north, is another favourite, with its skate park, 1930s model traffic area and gorgeous meadowy landscape along the Moselle river channel. Further afield, Tottenham Marshes and the hotly contested Walthamstow Wetlands (it might be on the other side of the River Lea but it has a Tottenham postcode!) are great for weekend walks.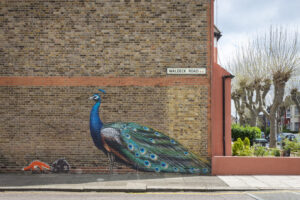 We're also spoilt for choice when it comes to food and drink, with local small businesses forming a supportive ecosystem that produces adventurous collaborations and pop-ups. For coffee, choose from Blighty on the High Road, With Milk on Philip Lane and Perkyn's on West Green Road.. Also on West Green Road, newcomer Pasero offers coffee, pastries and deli items by day and transforms by night (and at weekend lunchtimes) into a seasonal small plates restaurant.
Another small plates option is Chuku's, the self-proclaimed 'world's first Nigerian tapas restaurant', which is great for a date night or dinner with friends. For a Turkish food fix without venturing over to Green Lanes, try Umut Ocakbasi. It's family-run, authentic and delicious. Tasty pub food and perfectly curated beer selections? Try The Palm, True Craft or the High Cross. Cocktails? Go to Ten to One, or try a killer mezcal margarita at the Bluecoats.
All this and you can be at King's Cross via the Victoria Line in eight minutes. The Piccadilly Line is also close at hand at Turnpike Lane, or take the overground to London Fields, Stratford or Liverpool Street.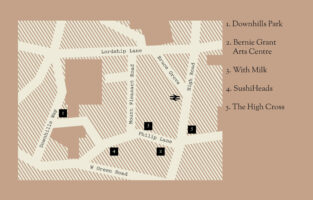 1. Downhills Park
This glorious Victorian park has a wonderful woodland area and hints of its former grandeur as the grounds of a stately home. Neri's café is a community hub and hosts fun family events from Easter egg hunts to Halloween parties – or just wander over on a sunny day and you're bound to bump into someone you know.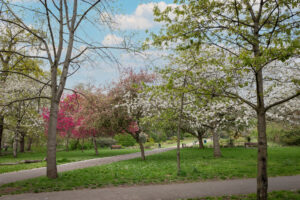 2. Bernie Grant Arts Centre
From dance to cinema, panto to Punchdrunk, the Bernie Grant is at the heart of Tottenham's cultural life. It intends to use its recently secured status as an Arts Council England National Portfolio Organisation 'to support even more Black artists to make exciting, bold and groundbreaking work'. Don't miss the innovative multidisciplinary programming that ensues.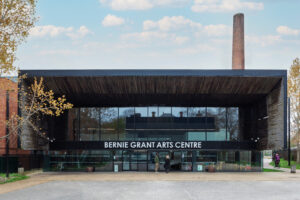 3. With Milk
Two local sisters serve great coffee and delicious food that nods to their North African and Tottenham roots. Pop in for a flat white and leave loaded up with treats from the deli, including local cheeses, the good olives, and pickles and jams made by the sisters' mum. The new Family Dinners night is an 'anti-small plates supper club' for convivial feasting.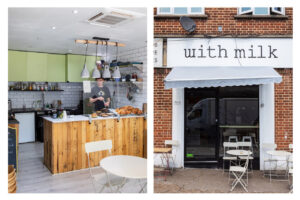 4. SushiHeads
A beloved Tottenham institution for over seven years, SushiHeads is shifting its focus from sushi to a broader selection of Japanese home-cooked dishes, drawing on owner Naomi's Osaka heritage. Look out for its heavily oversubscribed ramen and okonomiyaki pop-ups in the local pubs, or stock up on nori, udon and Kewpie mayo in its grocery section.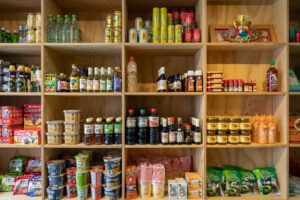 5. The High Cross
A tiny pub in a former public toilet, the High Cross still bears the Ladies and Gents signs of its previous incarnation. Both doors lead to a cosy haven offering a constantly evolving selection of beers as well as pies, roasts and exemplary Scotch eggs. Pop-ups? Of course. Book early to secure space at one of the handful of tables.