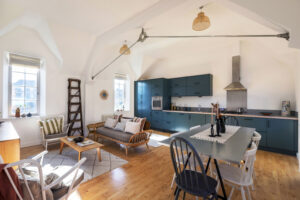 Moments from the buzz of Holloway Road lies this oasis of calm. A visually striking one-bedroom, top-floor apartment, it is an exemplar of style and comfort, with dramatic arched ceilings that add grandeur and scale.
Eden Grove, Holloway, 1 Bed. Flat
£500,000
Contact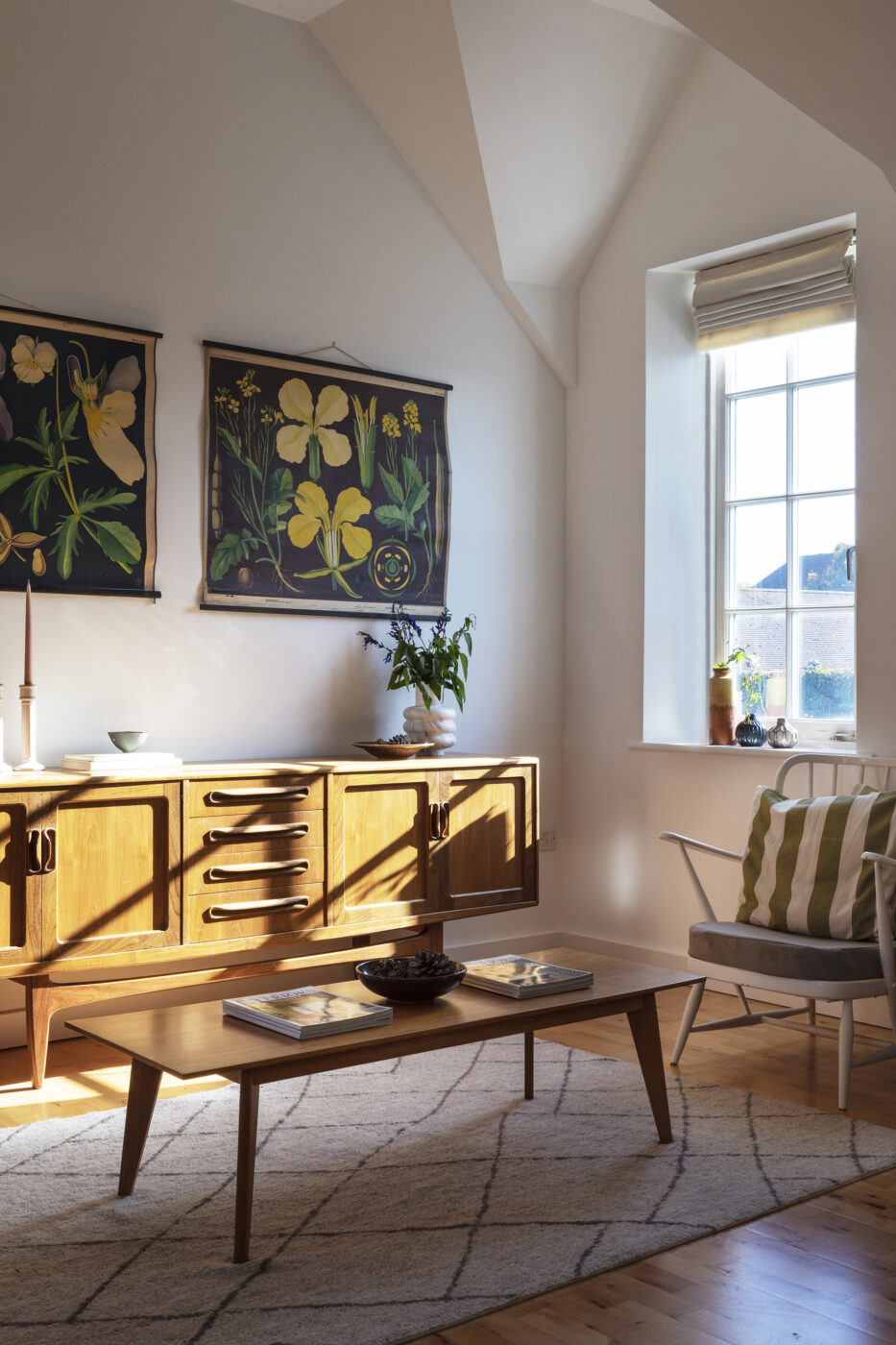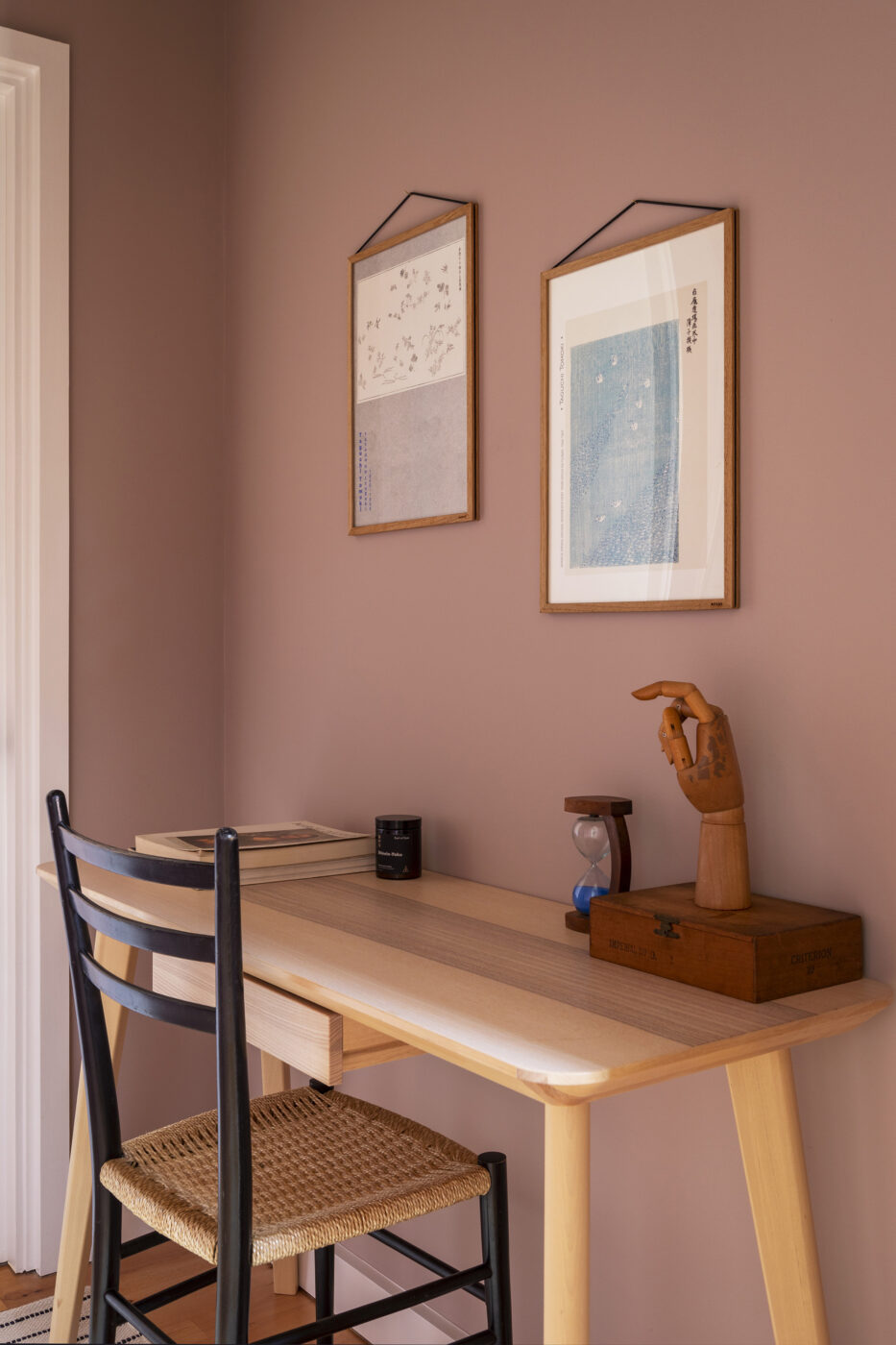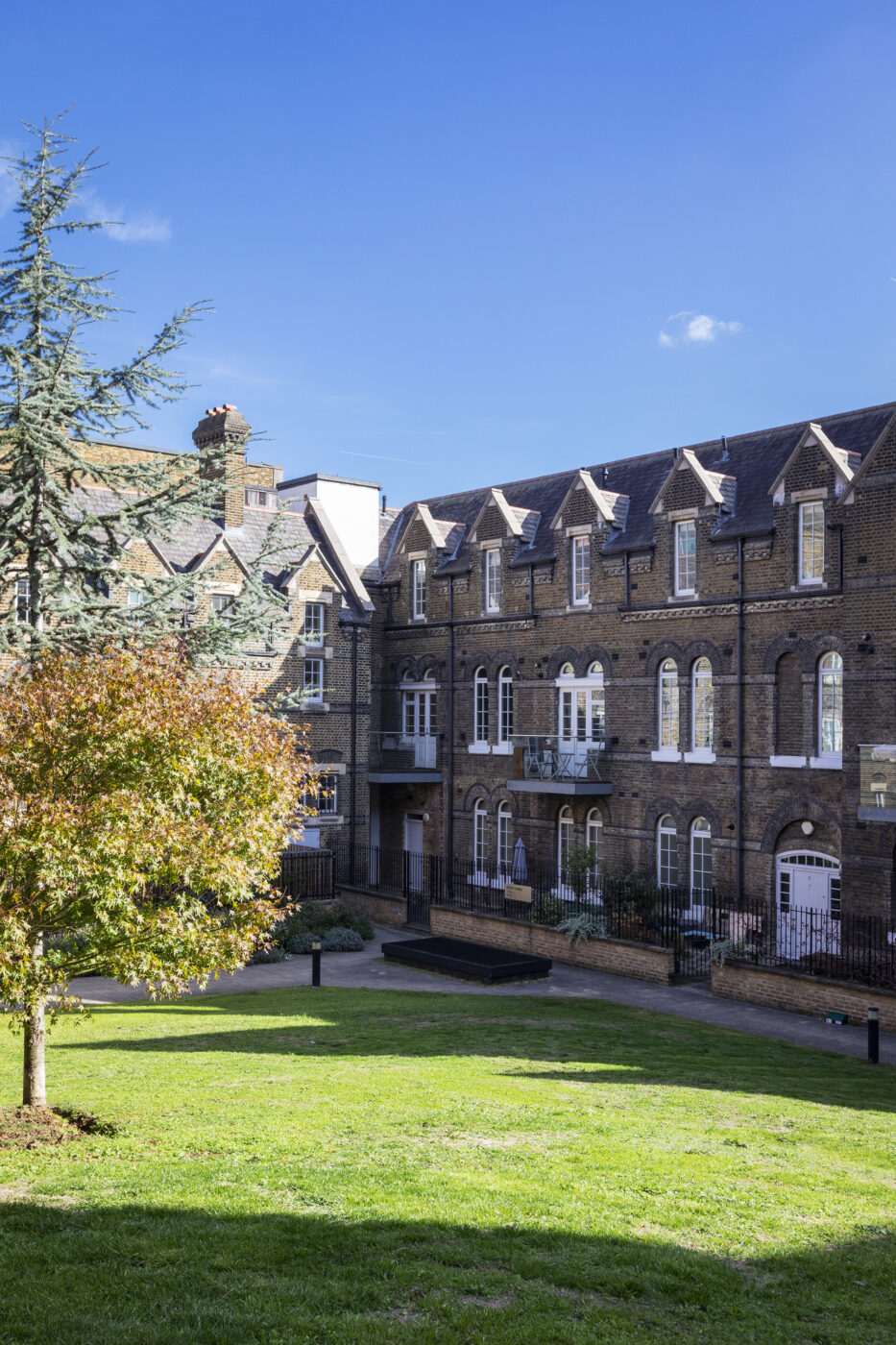 BRICKWORKS SAYS
Sensitively renovated, having once been a Victorian, Catholic school, its immediate appeal is in the arced bones of the building. The beautiful, vaulted ceilings enhance natural space and light throughout, making every room more impressive by the height and domes above. This is open-plan living at its most stylish, with defined spaces and windows on both sides casting shards of sunlight. We have fallen in a big way for the kitchen - the heavenly teal and all the cupboard space you could dream of.

Recently redecorated, the bathroom is fresh and modern, and the bedroom echoes the tranquillity of the living spaces, with arches adding interest and impact. Situated on the second (top) floor, the flat overlooks the communal gardens, perfect when you need a breath of fresh air. But the good living doesn't end there, the complex ticks all the boxes for a contemporary urban lifestyle, including a concierge, underground parking (to rent or buy separately) and a gym.

Despite being seriously well-connected, with a choice of underground and mainline stations within striking distance, you have everything you need right under your nose: Step outside, and you can be on Holloway Road in a moment. All walks of life are catered for here, from high-end delis to old-school cafes and everything in between. Also within comfortable walking distance, Upper Street is one of London's premier parades, with the likes of Ottolenghi, APC and ThirdSpace jostling for attention. Alternatively, you can switch things up and head to Highgate for views of the city and a distinctive village feel.
THE OWNER SAYS
Mount Carmel Court has been the perfect first home for us and a hidden gem in the centre of London. The flat has always been peaceful and bright, with high ceilings, large windows and sunlight beaming in the morning and evening.

We've loved the large open-plan living room, which has always felt like a space that can do it all: from hosting friends and family to working from home and even raising our first child over the past year.

We have great neighbours, and a real sense of community continues outside into the shared gardens and residents' gym. The tireless concierge team take in the post and help the development feel really safe and welcoming. We love the 'best of both worlds' - feeling private and quiet but being so conveniently close to the restaurants, pubs, shops and tube stations of Holloway Road, Highbury and Angel.
POINTS TO CONSIDER
Energy Performance Certificate:
Current energy rating E. Potential rating C.

Council Tax:
In the borough of Islington, the property falls into Band D (£1,720 in 2022/23).

Tenure:
Leasehold. Over 200 years remain on the term.

Service charge & ground rent:
Ground rent is £50. Service charge circa £1,500 every six months.

Utilities:
Current monthly costs: Gas £125, Electricity £125. Water in included in the service charge. Figures are approximated.

Recent work:
The flat has recently been redecorated throughout.

Getting around:
You couldn't get any closer to Holloway Road where you can hop onto the Piccadilly Line and be in Covent Garden in under 15 minutes. Alternatively, Highbury & Islington is just a short walk away, giving you access to the Victoria Line and the entire Overground network. A little under the radar but incredibly useful, Drayton Park connects you with ThamesLink, opening up direct routes to Cambridge, Gatwick Airpot, Brighton and more.

Anything else:
Mount Carmel Court has wonderful private gardens and a handy resident's gym. Underground parking within the development is also available. The current owners rent a space from a neighbour, and they routinely come up for rental or sale, so if you want a designated spot you shouldn't have to wait too long.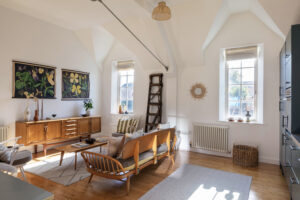 View all photos (18)
Brickworks loves:
Explore North London
landmarks
1
Ez & Moss
Super neighbourhood cafe serving up delicious veggie & vegan-based delights for breakfast, brunch or lunch. Some of our personal favourites include their perfect omelettes, poached egg and salsa, as well as the millennials-favourite, avocado on toast. Plus they also do some pretty marvellous vegan cakes for afters.
2
Xi'an Impression
Directly across the road from the Emirates, this tiny unassuming little restaurant serves up a feast of probably the best Chinese in North London. Sharing dishes from Xi'an (best known as the home of the Terracotta Army) the menu spans rich combinations of spices and soft, fresh noodles, crispy fragrant dumplings and their own version of a burger which is more than delicious…but the noodles are definitely the star of the show. Really great value.
3
Provisions
One of the early signs of change, this excellent wine, cheese, bread & beer shop is another hint of how the Holloway Road is changing fast and for the better (in our opinion). The selection of artisanal produce is extensive, and if you take in an empty bottle they will fill you up with the house wine. What a genius idea!
4
Le Peche Mignon
Wonderful, independent cafe and food store. And when the sun shines (fingers crossed), there is a small, outside seating area too. We adore this place.
5
Vagabond N7
Ok, so we are a little bit biased, but we genuinely believe Vagabond serve up some the best coffee in London. Plus their cafe on the Holloway Road is just a great spot to catch your breath and grab a bite to eat, or just relax and people watch. The staff are super-friendly too.