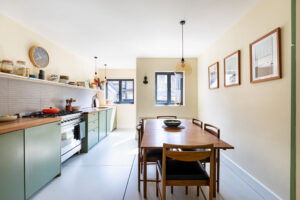 A fresh, modern approach has transformed this charming two-bedroom Arts & Crafts cottage into a stylish family home.
Awlfield Avenue, Tottenham, 2 Bed. House
£550,000
Under offer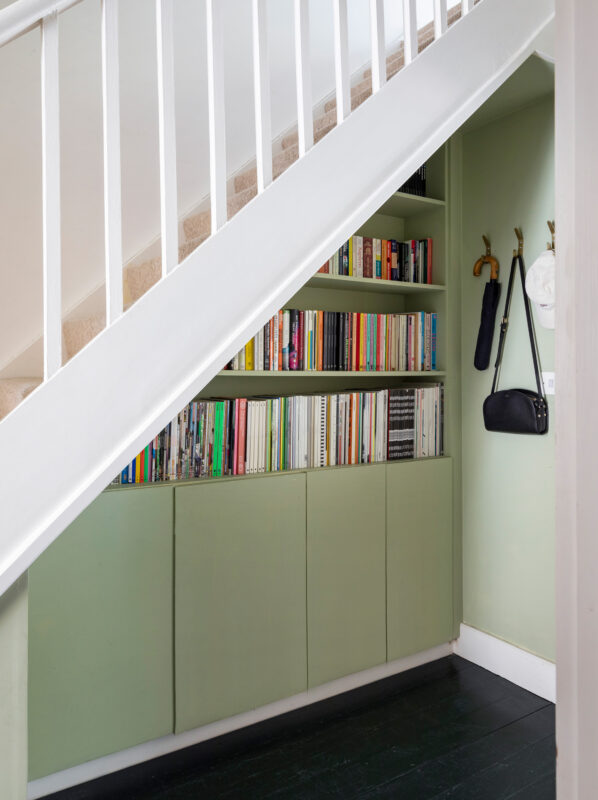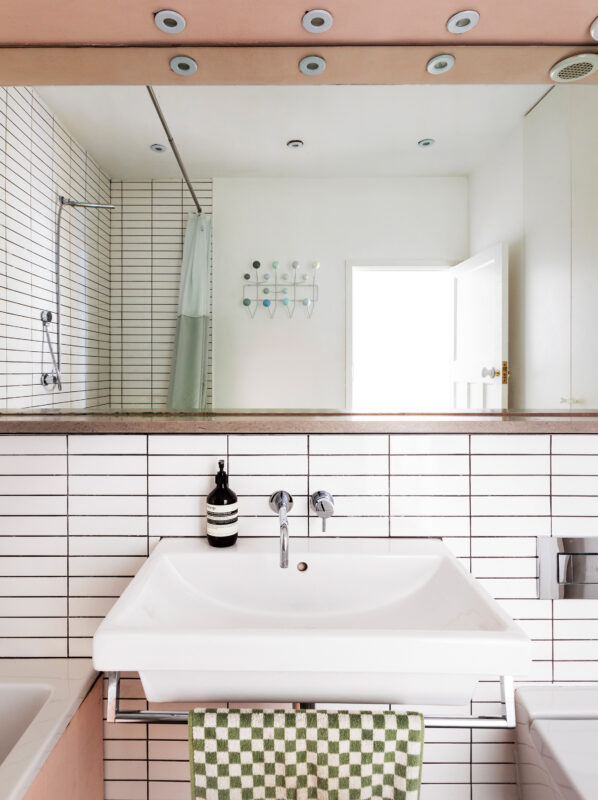 THE OWNERS SAY
Our house and the area have been a great place to live for the past five years, where we've created many great memories for our growing family. We've loved caring for the house and adding to its warmth and charm. When we originally moved in, it was just the two of us, and we're now sharing it with our two young sons, so we have enjoyed experiencing the property both as a couple and as a young family.
We've found the neighbourhood to be full of friendly faces. With its local parks and close proximity to both the London Overground and the Piccadilly line, it's been a great spot to position ourselves and still enjoy the best that East and Central London has to offer.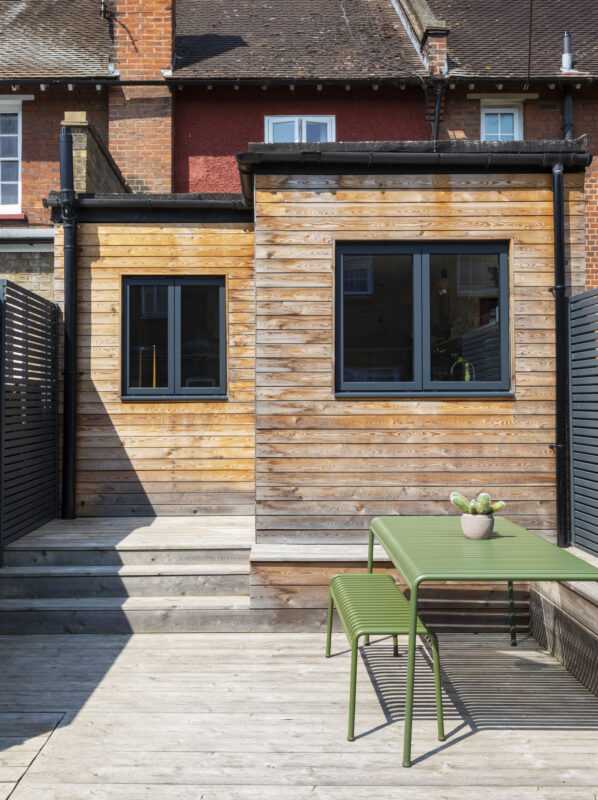 BRICKWORKS SAYS
Thoughtfully reworked by the current owners, this charming property on a quiet tree-lined street has been reimagined as a fresh and functional house, full of clever storage and stylish touches.
Neutral walls throughout help create a bright, fresh feel while surprise flashes of colour spark little moments of joy as you move around the space. Sage green units fill one side of the kitchen and there's plenty of room for a dining table on the other. Bespoke storage under the stairs has been so beautifully realised that it almost feels like an extra room, while the bathroom opposite feels cool and contemporary with stacked metro tiles and pops of pink. The east-facing garden features a large decked area (complete with a clever hidden sandpit), providing the perfect spot for a morning coffee in the sunshine.
Known for its collection of gorgeous Arts & Crafts cottages and nestled between two popular parks, the Tower Gardens Estate is fast becoming a go-to part of Tottenham for young creatives. It's easy to get around too, with several buses on your doorstep and the London Overground and Piccadilly line accessible by foot.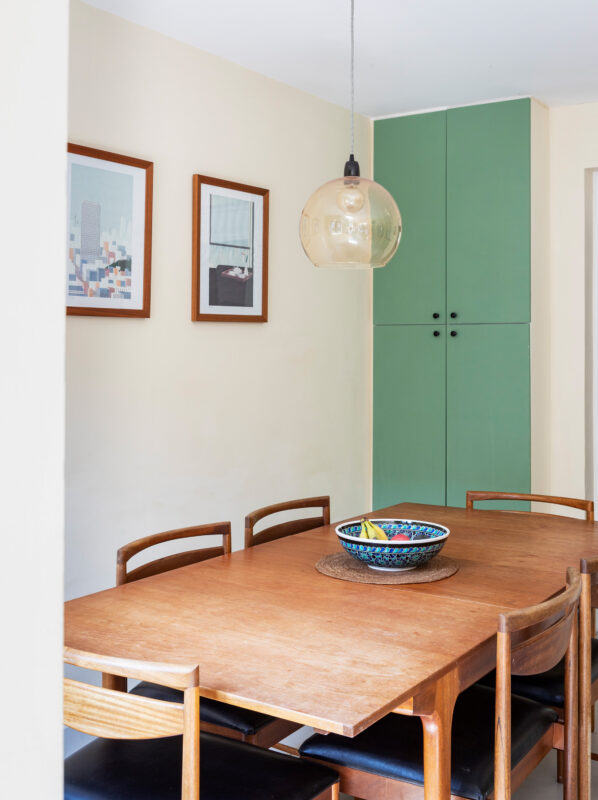 POINTS TO CONSIDER
Energy Performance Certificate:
The EPC gives a current energy efficiency rating: C.
Council Tax:
Part of the borough of Haringey, the property falls into Council Tax Band C (£1,770 in 2022/23).
Neighbours:
None of the houses in the Tower Gardens Estate are able to be converted/split into flats. For this reason, each house has one owner or tenant. There also seems to be a very low turnover of residents on the street; all of the surrounding neighbours have been around since before the couple moved in five years ago.
Utilities:
Current monthly costs are approx. Gas & Electricity combined, £140, Water £20.
Recent work:
The front windows have been fixed and painted and the rear windows and doors were replaced. Downstairs has been completely repainted and the garden was renovated, including panelled fencing, a new deck, cladding on the rear extension and landscaping of the garden. Nothing is planned, but the couple had architectural plans prepared for a loft conversation which has been granted planning permission by Haringey Council should a new owner wish to complete the works.
Getting around:
Awlfield Avenue is positioned between Bruce Castle Park with its imposing castle of the same name, church and cemetery, and Lordship Rec; a popular green space with a community cafe, playground and duck pond. Transport-wise, it's equidistant between Bruce Grove and White Hart Lane Overground lines into Liverpool Street and the Piccadilly Line at Turnpike Lane is a mile away.
Anything else:
The Tower Gardens Estate was built between 1904 and 1911 to the radical ideals of Architect W. E. Riley. One of the new 'Garden Suburbs', whose creation was backed by wealthy social reformers of the day, in cooperation between architects and craftsmen, and gave the architectural style its name: the Arts and Crafts Movement.
The 954 homes in Tower Gardens made it the most significant development undertaken by the London County Council (LCC) at the time. An example of progressive Edwardian architecture, rare within the largely Victorian historic fabric of London. Tower Gardens was given Conservation Area status due to its unique architectural approach and the quality of construction of its properties.
Credit to www.towergardens.org.uk for inspiration.
THE LEGAL BIT
While we endeavour to provide accurate photographs, floor plans, and descriptions, these should be intended as a guide. Total floor plan measurements are sometimes rounded for ease, and distances are approximated. Purchasers should always satisfy themselves through personal inspection.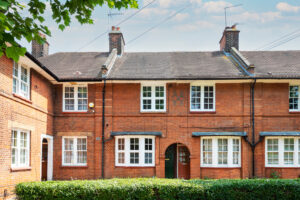 View all photos (26)
Brickworks loves:
Explore North London
landmarks
1
Bruce Castle
Named after Robert the Bruce, former owner of its grounds, this remarkable Grade-I listed manor house has a long and storied history. Its owners include Henry VIII's "Groom of the Bedchamber" and Sir Rowland Hill, inventor of the postage stamp. Queen Elizabeth I, Charles Dickens and Charles Babbage all paid visits to the castle. And on its grounds is the magnificent Bruce Castle Oak, runner-up for England's Tree of the Year in 2018!
2
Lordship Recreation Ground
'The Rec' is a generous green space with a paddling pool, playground, a BMX track and little woods for all kinds of muddy adventures and make-believe.
3
The Bluecoats
"The big pub on the high road serving wicked food, showing the football and providing general good vibes," this cosy indie boozer serves up Time Out's best burgers in London. It also has a heated garden, regular pop-up nights (Taco Tuesdays! Wing Wednesdays!) and too many beers and ciders to count.
4
With Milk
Run by two sisters, this sweet independent coffee shop & deli on nearby Philip Lane packs a punch serving amazing coffee roasted by Perky Blenders in local Leytonstone. With a changing menu of sandwiches, sweet treats and blooming excellent croissants that always hit the spot, the ladies also offer gluten-free options, a range of halal meats and wonderful cheeses.
5
The Palm
This is everything a local pub should be: craft beers/ales on tap, delicious food and bar snacks, and–to top it off–a brilliant team that runs it. Whenever we just "pop" in, we can't help but stay for hours. Plus, we can assure you their Sunday Roast is pretty much perfect.